We promote the use of local wood
Our corporate philosophy is Sustainability and New Technologies

Ash
A close-to-home suistainable resource
Ash tree (Fraxinus excelsior L.) is a decisuous broadleaf tree native to Europe. The northernmost location in Europe is in Norway, the southernmost location is in Greek. From East to West, it grows from Ural Mountains to the Iberian Peninsula. It Italy it is widely spread on the Alps; it become rarer in the Southern part of the country. In Piedmont it can be found in the Alps, in the hill surrounding Po river and in Po valley. It the past, ash trees were grown because they were used as forage in the summer period.
Why we value ash
Ash timber is very hard and resistant. It's appreciated for its pleasing appearance: as it's generally light in colour, it does not become really darker after thermal treatment. The local availability of this species is high in our region.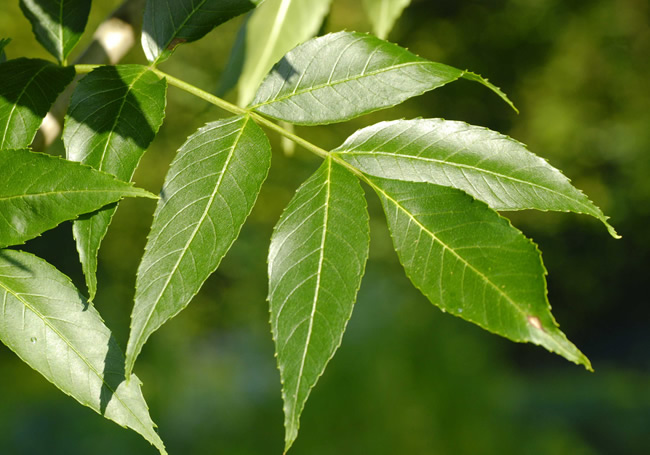 Technical info and uses
Appearance: heartwood is a light to medium brown color. Sapwood is beige to light brown, and it is not always demarcated from heartwood. Wood grain is usually reguar and straight.
Durability (fungi): non-durable wood (class 5)
Durability (insects): low
Hardness (Brinell): high (~38 N/mm²)
Average dry weight: high (~720 kg/m³)
Volumetric shrinkage: medium
Mechanical properties: medium resistance to axial compression (~50 N/mm²); medium resistance to bending (~105 N/mm²); medium to high elastic modulus (~12500 N/mm²)
Workability: easy to work. Machines, glues, stains and finishes well.
Common uses: ash timber is particularly good at withstanding sudden shoks, and hence it's a great joinery timber for sport gears --hockey sticks, oars, tennis rackets. It's also used as interior joinery timber --for furniture, floors, staircases, windows. Ash timber products must be thermally treated to be used outside. Ash wood is used as fuel, too.
Products

This site uses cookies. By continuing to browse the site, you are agreeing to our use of cookies. privacy policyOK