We promote the use of local wood
Our corporate philosophy is Sustainability and New Technologies

Larch
Green gold of our mountains
European larch (Larix decidua Mill.) is a coniferous tree native to the Alps, the Carpathian Mountains and the Sudety mountains. In Italy it's widely spread in the Alps. In Piedmont it's very frequent in the Alps, while it becomes rarer in the southern part of the region. In our mountains, larch is the most spread coniferous tree. In the Alps, larches usually form the tree line. Larch trees have always been grown because of the high quality of the timber and because of the light shadow they produce, which is perfect for grazing.
Why we value larch
Larch wood is a durable and resistant wood. It can be used to build interior and exterior products, and such it's a multifunctional wood. It's great as a structural material. Larch timber is traditionally exploited in our land and it's a locally abundant resource.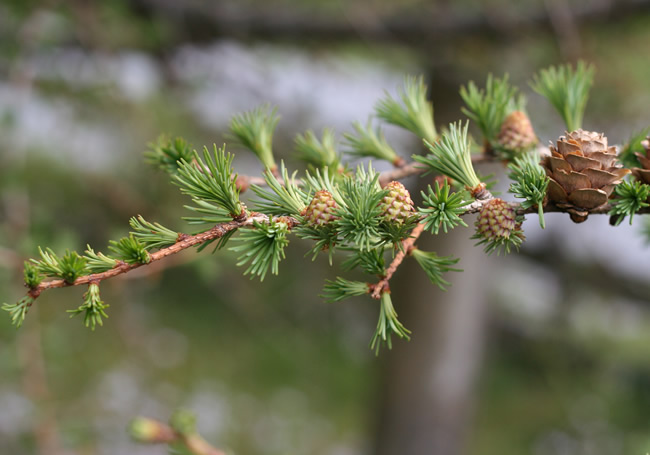 Technical info and uses
Appearance: sapwood is thin and yellow, heartwood is light brown to dark red brown. It can largely vary. Grain is usually straight, but it can be spiraled.
Durability (fungi): moderately durable wood (class 3)
Durability (insects): Cerambycidae ssp. = susceptible; Anobiidae ssp. = susceptible; Lyctidae ssp. = durable; Termites spp. = susceptible
Hardness (Brinell): low (~19 N/mm²)
Average dry weight: medium to low (~6500 kg/m³)
Volumetric shrinkage: medium
Mechanical properties: medium resistance to axial compression (~50 N/mm²); medium to low resistance to bending (~92 N/mm²); medium to high elastic modulus (~14000 N/mm²).
Workability: overall easy to work. Glues, stains and finishes well. Heartwood is not easy to impregnate.
Common uses: larch wood is used in a wide range of external and internal pruducts: posts (for the costruction of fences, in environmental engineering), joinery (garden furniture, barrels, flooring). Larch wood can be used for structural timber products (mainly for trusses). Larch wood is not used as fuel, because of its high content in resin. It is used construct barrels and other containters containing wine.
Products

This site uses cookies. By continuing to browse the site, you are agreeing to our use of cookies. privacy policyOK